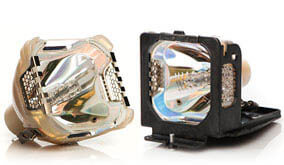 At MyProjectorLamps, we make it easy to find exactly what you need to get your projector up and running. We simplify the process by selling a large selection of replacements in two different styles: lamps that come with the whole plastic housing or module that covers it and just the bare projector lamps on their own. The difference between the two? Bare bulbs are incredibly easy to install and a more affordable option for those who purchase several replacement lamps throughout the year.
Easy, Painless Installation
Since most major brands build their projectors the same way, you should be able to replace a bare bulb in a flash without even having to replace the entire housing module. For most projectors, all it takes is a screwdriver and some basic know-how to remove and replace the bare bulb. It's so simple that the entire process can be completed in as little as 5 minutes and can save you big money on replacements.
Why Choose Bare Projector Lamps from MyProjectorLamps?
Purchasing bare projector lamps from MyProjectorLamps is a smart and seamless way to save big on replacements and that's just the start. Here are some other reasons to choose us for all of your replacement lamp needs:
All replacement lamps and bulbs come with an industry-leading 180 day guarantee.
All bare projector lamps are brand new factory originals.
We provide outstanding customer service that includes helping you find the right part.
We beat any competitors price!
Buy Now and Save
Looking for bare projector bulbs? Check out our large selection of replacement products by searching for your replacement bulb by projector model name or lamp ID number. Not sure of what to choose or have questions about installing your bare replacement bulb? Contact MyProjectorLamps via email or call us today at +852 5808 3330.